Powder Coating
Let Hycom take the guess work out of your powder coating needs. Short lead times, powder coating, sand blasting, and custom racking available.
We are open to serve industries as well as the public.
If you have any inquiries concerning our powder coating services feel free to give us a call, or send us an email, and we will get back to you as soon as possible.
Because of the high demand for powder coating by many of our customers, Hycom added powder-coating capabilities to shorten lead times and save costs for our customers.
Powder coating adds distinct advantages over conventional liquid paint.  Since powder coating does not require a solvent to keep the binder and filler parts in liquid suspension, powder coating is applied electro statically via spray gun.  Once, applied, the part is cured in a large oven, which allows the powder to flow (once heated) and form a "skin" that creates a hard finish that is tougher and more durable than conventional paints.
Phone# 330-414-5788, Fax# 330-753-2336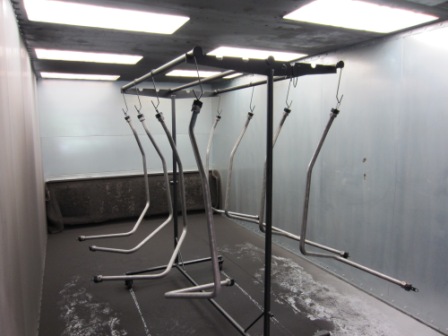 Specifications
Powder Coating
10' x 10' x 20' Spray Booth
10' x 10' x 20' Oven
Nordson Spray Guns
Custom Racking Available
Sand Blasting
Thousands of Colors to Choose From
No Quantities to Big or Small
Short Lead Times