Custom Tube Bending & Forming
Hycom is an ISO certified company that specializes in custom tube forming for companies both large and small; from Fortune 500 companies to the "Mom and Pop" machine shops around the corner.
Our capabilities include bending a wide range of tube sizes (both round and square shapes) from 3/16″ O.D. up to 5″ O.D. Our CNC and manual draw benders are operated by experienced technicians who can fabricate anything from simple 45 degree and 90 degree bends to complex bends on multiple planes including mild steel, stainless steel, copper, aluminum, and other bendable materials.
Available Finishes include: phosphate, powder coating (in-house), nickel, and zinc plating (yellow, clear, or olive).
Hycom has the ability to do high pressure internal flushing for cleaning tubes up to 20 feet in length to meet OEM cleanliness specifications.
Secondary Operations Include:
Single Flare
Double Flare
Bubble Flare
Expanding
Notching
Par Flange
Benders Include:
Hand Benders, Power Benders: native VB75, VB150, VB300,  special dies, and 6 Diacro Benders
If required, tubes can be coated for functional or aesthetic purposes with powder coating or zinc plating.  Brazed end fittings can be done using copper, silver, and nickel.  Welded end finishes include TIG and MIG welds.
Phone# (330)-753-2330, Fax# (330)-753-2336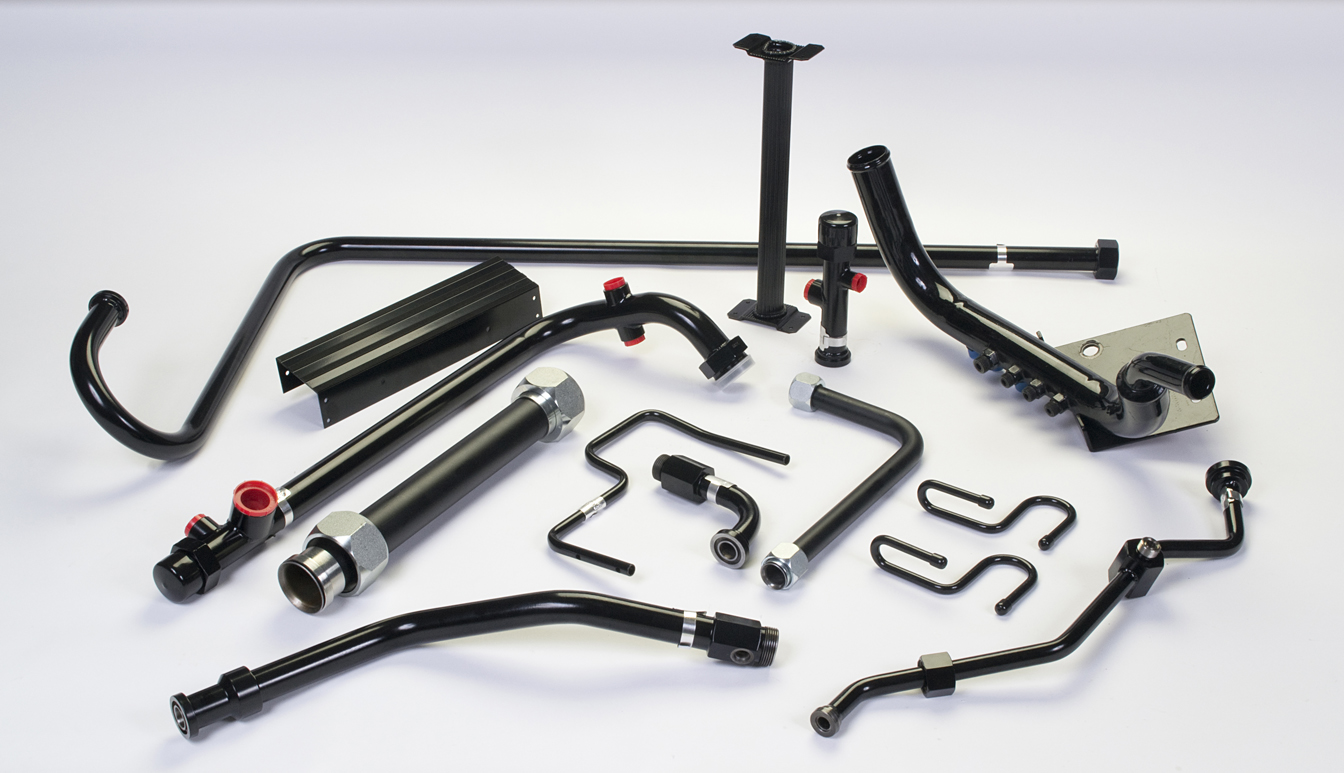 Specifications
| | |
| --- | --- |
| Typical Products | Brake Lines, Cooling Tubes, Gas Lines, Heat Exchange Tubes, Hydraulic Lines, Metal Frames, and Refrigerant Lines |
| Tube O.D. | 1" 1/2" 1/4" 11/16" 1-1/2 SQ. 1-1/2" 1-1/4" 1-1/4" SQ. 1-1/8" 1-3/4" 2" 3/16" 3/4" 3/8" 5/16" 5/8" 7/8" 9/16" |
| End Finishing Options | Beading, Brazed End Fitting: Copper, Silver, and Nickel. Single Flare, Double Flare, Bubble Flare, Expanding, Notching, Par Flange, and Roll and Punch.  Welded End Finishes: Tig and Mig. |
| Available Finishes | Phosphate, In-House Powder Coating, Nickel Plating, and Zinc Plating (yellow, clear and olive drab) |
| Special Services | High pressure internal flushing for cleaning tubes up to 20' lengths |
| Industries Served | OEM Off-Road Construction Equipment, Transportation, Medical, Military, Aerospace, Agricultural, and Furniture |
| Certifications | ISO 9001:2015 |